Competing To Feed The Hungry!
By
Carrie Ann Green
Feb 21, 2014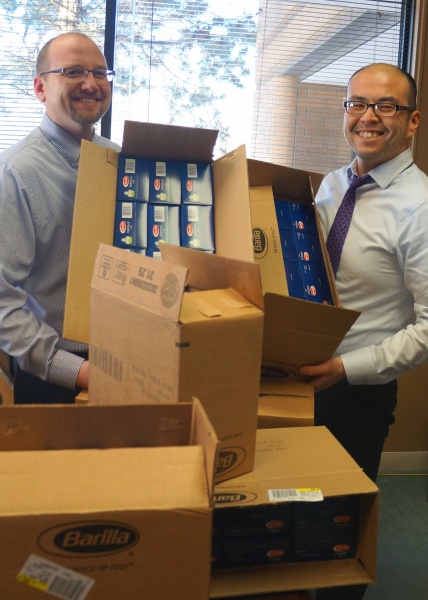 Andrew & Eric pose with the boxes of Barilla Pasta
that they purchased for our Annual Food Drive.
Among the different departments at Corporate Business Solutions, there can be some healthy competition to see who can donate the most, when collecting for charity.  In addition to the front lobby, donation boxes are set up within various office areas, with each department taking individual ownership.
Our Annual Food Drive, benefiting a local food bank in Libertyville, followed on the tails of our Toys for Tots Collection.  There might have been a feeling that one department 'beat' another in how many toys were donated and now the race was on—our Annual Food Drive had turned into no-holds-barred contest!
We couldn't help but keep an eye on the various boxes and bins to see how the contributions were stacking up.  It's a point of pride among CBS employees that we overfill these containers.  Many people stepped up to the plate to help fight hunger, but we wanted to give a special shout-out to Andrew, Eric and Chris (unfortunately, Chris was out of the office when the above photograph was taken) who went above and beyond, ordering pasta, in bulk, to donate!
And, yes, their department rocked the Annual Food Drive, easily donating 2/3rds of the total amount of food collected.  Congrats to everyone who contributed to such a worthwhile cause, helping to end hunger in our community!