Small Business Web Hosting
By
Corporate Business Solutions
Jan 25, 2011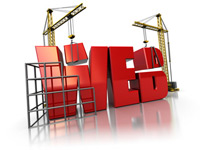 How to choose what's best for me?
Small businesses should be careful when choosing the right Web hosting company. Choose right and you'll end up saving your business a lot of money and a lot of headaches down the line. Choose wrong and, well, the results could be expensive and disastrous.
Let's step back a moment and learn exactly what a Web host is. If you have a Web site or e-mail on your own company domain name (example: bill.gates@microsoft.com), you have a Web host. A Web host is a company that "hosts" your Web site on their servers. A server is basically just a super- charged PC that exists to "serve" Web pages. Think of it like a home for your Web site and e-mail. These Web hosting companies charge a monthly fee, like rent, so that users can have a Web site and e-mail available for business.
So how do you choose the right host (landlord) for your Web site and e-mail?
As a small business your needs may vary, therefore choosing the right Web host is an important piece to the puzzle of success. Ask yourself these questions.
Is my Web site and e-mail a small or large part of my business?
Is having a consistently functioning Web site and e-mail a critical piece of my businesses success plan?
Will I be expanding my Web site to include online tools and thirdparty resources down the line?
If your Web site is a small piece of your business success, then you can simply choose a Web host that is priced right for your budget and not worry about the extra details. Look for a local hosting company by searching in Google for "Web hosting + your city name." You can also locate some great deals from national hosting firms.
For those who rely on your Web site and e-mail as a critical piece of your business, it's time to start thinking beyond cost and more about features you must have to be successful moving forward. Here are a few factors to consider:
Virtual/shared hosting or dedicated server?
A virtual/shared server means that your Web site and several other (sometimes hundreds) Web sites are "sharing" the space on the machine, but remain completely separate from one another. This is the most common type of hosting available today because of the lower costs involved.
The disadvantage to sharing a server is that you will not be able to install special server-side scripts or applications you may want to test from time to time. You also will not experience the highest level of performance due to the fact that many others are sharing your server's CPU and bandwidth connection.
A dedicated server means that you own or rent the entire server all by yourself. You can do with it as you wish and install anything. This type of server makes sense for small businesses that usually maintain over 5,000 visitors per day, or have active forums and tend to run and install programs and scripts.
The disadvantage to having your own dedicated server is that you are responsible for the troubleshooting and updating of the machine as time goes by. You can elect to pay the hosting company to support your server for you for an additional fee on top of your monthly charge. You can even run your own dedicated server inside your own company, assuming there is a technical team in place to watch over it.
Cost is also a factor
Expect to pay at least $200/month as a minimum starting cost for a decent dedicated server from a reputable hosting company.
There are a few main items to look for and decide on when choosing a dedicated server:
Operating system – There are really only two main types of operating systems that most companies use today. Those are either Windows or Linux. Consult with your IT person or the person who built your Web site to determine which system your Web site will operate on.
Bandwidth – Essentially, bandwidth is how much Web traffic a Web site incurs each month. Hosting companies provide a certain amount of bandwidth to start with. If those limits are exceeded, they will charge extra and it can add up. Make sure you have enough bandwidth included in your hosting package so you're not paying extra every month. Again, consult your past Web site traffic statistics to get an idea of your average bandwidth month to month.
Disk space – The hard drive on your server should be big enough to hold your Web site and any other files needed to store online. Most hosting companies offer more disk space then you will ever really need.
Control panel – When logging in to administer your Web site, you login to a control panel that allows you to change your server's configuration. Most control panels are useful enough, but consult with your IT team again to make sure what is offered is compatible with your needs.
Here are some other things to consider when shopping for a Web hosting firm:
Support – Does the company have a 24-hour support system in place? If the server goes down on Friday night at Midnight, will you be able to have someone fix it before Monday?
Security – Does the Web hosting company actively make updates and install security patches on your Web server? If not, the site is vulnerable to hacking attempts and viruses that can shut you down and cause you to lose everything.
Backups – Does the hosting company backup their servers? How often? It's important that data is backed up on a regular basis or you risk losing it all.
Secure shopping – Do you ever plan on selling products on your site? If so, you'll need to be able to process secure transactions using secure socket layers (SSL).
Blogging – Does the hosting provider have blogging tools to utilize? If so, you can easily create and manage your own blog without worrying about installing new software.
Choosing a hosting provider is just like choosing any other third-party vendor. You get what you pay for. Check for references and ask in detail about each topic discussed.