"Corporate Business Solutions Employees" Posts
Our latest corporate outing was dinner and a show at the Marriott Lincolnshire Theatre.  We started our evening in the King's Wharf Restaurant where we had our choice of four different entrees—New York Strip Steak, Tilapia Filet, Mushroom Ravioli or a Steak & Blue Cheese Salad.  After a delicious meal, we found our seats in the theatre.
As it turned out, we were located right on the aisle, which meant that we had plenty of 'felines' who interacted with us as they gathered before going on stage—purring, preening and swiping tails.  It was a wonderful preview of the elaborate …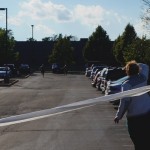 At Corporate Business Solutions, employees support each other's health goals, everything from working out together at a local health club, to some good nature competition as to who is in the best shape via weekly weigh-ins.
After some good natured ribbing about who was the fastest runner, a race from the end of the company parking lot to the front door was arranged to occur after work to forever settle the issue.
Our two competitors, Brent and Jay, changed into their fitness gear and headed outside to race.  Employees gathered to cheer at the impromptu finish line (a roll of …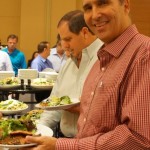 After a weekend of intense workshops and seminars regarding the latest government regulations and tax changes that will affect our clients, attendees relaxed with informal dress for some casual networking at the dinner buffet.
We were delighted that many attendees brought their significant others!
There was a great selection of dishes.
Need to save room for dessert!
President Tyler Burgess poses with an attendee.
As he did, throughout the event, President Tyler Burgess made himself available for any private one-on-ones and to personally address any concerns that employees may be facing.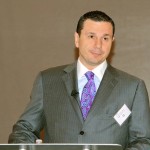 President Tyler Burgess opened the Annual Meeting for Corporate Business Solutions by sharing the fact that our on-going corporate donation program has, as of 2013, raised more than $2.5 million for organizations which include:  Alzheimers Association, American Cancer Society, American Red Cross, Children's Memorial Hospital, Easter Seals, Elizabeth Glaser Pediatric AIDS Foundation, Habitat for Humanity, Komen Chicago Race For The Cure, Make-A-Wish Foundation, Muscular Dystrophy Association, Special Olympics Illinois, Women's Networking Community, among many other notable charities.
It was a packed ballroom at the Renaissance Schaumburg Convention Center and Hotel for the 2013 Annual Meeting.  Employees had gathered to participate …